The story behind the artwork that is adding colour to the outdoors throughout the north shore.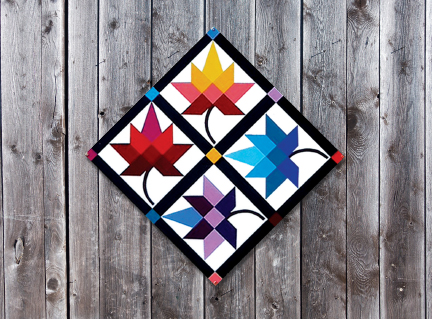 While driving around the north shore you might have noticed some interesting artwork hanging on the outside of stores, barns, and even homes. Read on to learn about the artist and how these pieces of art came to be.
Since 1994, Dorothy Jane Bennett published The Nice Little Phonebook which served five counties. As she met hundreds of entrepreneurs, Dorothy noted that creativity is often an integral ingredient for business longevity. After 22 years, and with a changing market, Dorothy made the decision to close her phonebook company. She moved on to a relaxed pace of part-time work in a downtown Truro shop. During this time Dorothy was able to reassess and discover her true interests… fabric and paint.
Dorothy's former business travels required countless stops at art galleries, artisan/craft stores, paint/decorating stores, fabric outlets, quilting/fiber arts, up-cycled clothing/handcrafted jewelry, antiques/old glassware shops, etc. And so began the use of her time in the sunlit spaces between life and work to pursue her inner craftswoman.
Dorothy's collection of retro sewing machines proved ideal for making the soft-filled fabric hearts she named From the Heart -Tuck in a Note. These small hearts are individualized using combinations of cotton, brocade, batik, and/or raw silk. Finishing details vary, but often include a handcrafted wooden button from DJ and Ernie's home in beautiful Forest Glen, Nova Scotia.
Dorothy's grandmothers, Lillian and Eva, made a stunning fabric quilt by stitching together prize ribbons that her father, Newton "Ted" Bennett, won showing his livestock (mostly sheep) at county fairs. This sentimental quilt influenced her interest in the history of traditional quilts which were created for practicality, socializing, and to commemorate life events. Dorothy discovered that painting barn quilts perfectly complemented her fascination with quilt patterns and color. It also offered her a fulfilling connection with other creators and makers from all walks of life and art.
Dorothy acknowledges that commissioned pieces with a story to tell are particularly meaningful to her. The barn quilt with the bright green and yellow leaves (pictured above) was one such project. It was inspired by three-year-old Cameron's much-loved fabric quilt which he had named 'My Buddy'. It was made by his Great Great Grandmother Isabell McKeen in 1967. The hand-painted barn quilt, honoring his cherished fabric quilt, now hangs on his Grandmother's century farmhouse in Hilden, Nova Scotia.
The In Loving Memory-Mary Bertha barn quilt was a very special remembrance creation. It has been hung (pictured above) on an outbuilding of an Earltown homestead. The yellow roses in the center and the lavender/green colors that were chosen, speak to the poignancy of the Conoley family story. Kayla Conoley and her brother Craig reached out to DJ's Barn Quilts to paint In Loving Memory as a gift for their Dad, Rodney.
Dorothy's vibrant barn quilts are year-round artwork for your house, veranda, cottage, fence, garage, she-shed, baby barn, garden shed, office … or even your barn! DJ's Barn Quilts are meticulously hand-painted on durable signboard using premium quality paints and then sealed with a UV protectant. Choose a traditional pattern or work with Dorothy to create a personalized outdoor art piece featuring your colors and family story as inspiration.
For more information on barn quilts please visit www.djsbarnquilts.ca or follow her on Instagram @djsbarnquilts.